90% of visible changes to the skin, is a direct result of cumulative sun damage.  Not only should we be worried about the physical disadvantages, but also the health risks sun exposure can contribute to.
First choice of action is prevention and a lot can be done for it.  Read more about our sunscreens and the best option for your lifestyle and skin type HERE.
But even with the sunscreen just a beach-bag away, our lifestyles cause that prevention may often be neglected and we are left with sunburnt bodies and/or face.  All that is left to do is repair and hydrate.
Extremozyme Technology assists in prevention and after sun damage.  This technology is borrowed from plants that survive in harsh weather conditions and still manage to protect their DNA.   iS Clinical innovated a proprietary blend of Extremozymes and has incorporated them into several formulas to help diminish the appearance of fine lines of wrinkles, support collagen production, prevent signs of aging and improve the overall health of the skin.  Here are a few of our top choices to assist with post-sun exposure this season.
GeneXC
GeneXC Serum "awakens" the damaged/aged genes and cells to function at a more youthful pace.  This serum is known for repairing, hydrating and anti-inflammatory qualities.  The revolutionary formula featuring our proprietary combination of Extremozymes helps stimulate collagen and improve the integrity of the skin.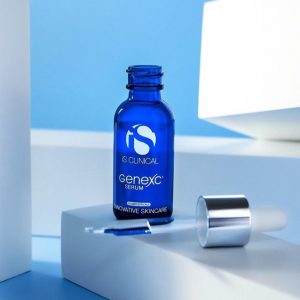 Antioxidant Strength of Product: GeneXC Serum (Source: Independent Clinical Study)
Reparative Moisture Emulsion
This elegant, light-weight moisturiser repairs the damage caused by free radicals.  Free radicals disfigure the DNA within the skin cells, but with Reparative Moisture Emulsion's formulation (specifically with Extremozyme Technology) DNA repair is possible.
Youth Body Serum
Keeping your body moisturised is just as important as moisturising your face. Our refreshing lightweight serum mist gently absorbs into the skin providing powerful hydration and antioxidant protection against environmental stressors. The purest form of Hyaluronic Acid, potent extracts of Watermelon, Blue Microalgae, Licorice Root, and Holy Herb are combined with essential Vitamin B5 and our proprietary Extremozymes to create a unique and effective formula designed specifically for the body.  Perfect for post-sun exposure.
Other iS Clinical products to consider with key ingredients to help soothe and restore the skin's condition after sun damage include the following:
Hydra-Intensive Cooling Masque
Our rich, luxurious cooling treatment masque is designed to reinvigorate, refresh, and provide soothing hydration.  This professional strength formula features botanical antioxidants, Centella Asiatica, Resveratrol, Green Tea, Aloe Vera, and Rosemary Extracts, which are perfectly balanced with botanically sourced Hyaluronic Acid – one of nature's most powerful hydrators.  Your skin will appear luminous, fresh, and hydrated.  As a bonus, it's excellent for sunburn.
Pro-Heal Serum Advance+
Anti-oxidants neutrulises free radicals, which is a big step in prevention as well as damage caused by the sun.  Pro-Heal Serum Advance+ is our most-loved anti-oxidant serum and is fantastic to apply to skin that is inflamed like sunburnt skin.
Super Serum Advance+
This scientifically advance formula is not only great for free radical scavenging and anti-oxidant passing, but also hyperpigmentation relief.
This clinically-proven combines a 15% concentration of our next generation L-Ascorbic Acid (Vitamin C) with a bioidentical Copper Tripeptide Growth Factor is also our go-to serum for scarring and marks.
Contact us or your skincare professional for more advice on sun damage.