We all know the importance of sunscreen: age spots, sun spots, hyperpigmentation, not even to mention skin cancer.
But did you know that sunscreen needs to be reapplied to exposed skin every two hours (source: Skin Cancer Foundation).
Many elements make this task challenging: one of them being applying this milky lotion over your makeup that took a whole hour to perfect.  Sunscreen on top of makeup does not go well.  Or does it?
Introducing a solution to it all: PerfecTint Powder SPF40.
PerfecTint Powder SPF 40 provides silky-smooth broad-spectrum coverage to help protect skin against the visible signs of photoaging while minimising the appearance of pores and absorbing surface oil to create a flawless finish.
This luxurious formula features our botanical antioxidant Extremozyme technology which is clinically proven to help protect DNA from environmental stressors while providing hydration even in powder form.
So how does it help the problem stated above?  This powder is available in five tints to tastefully match any skin tone from ivory to deep and may be applied on top of makeup.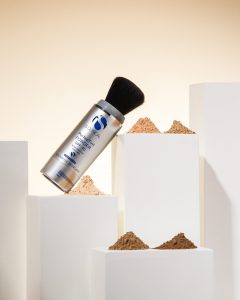 PerfecTint Powder SPF 40's sole purpose is not only to be applied over makeup, but also excellent for sports, face, neck, decollete, scalp, and all over protection.
Scout for your tint at your nearest iS Partner and simplify your life.