Whether you have a special someone to celebrate with or just want to feel extra confident, having healthy and radiant skin is a must. Grab a glass of water, while you read through how to achieve glowing skin and plumping lips during the month of love.
Cleansing Complex Polish
Time is not always on our side and our skin clinic may be booked up. If that is the case and your regular chemical peel is not in the books for you, take advantage of iS Clinical's Cleansing Complex Polish. With no time to waste, you may apply and rinse while in the shower. Cleansing Complex Polish thoroughly cleanses the surface and pores of the skin without drying or stripping essential natural oils, leaving the skin with that polished look.
Key Ingredients
Centella Asiatica
Eco-Friendly Microparticles
Sugarcane
White Willow Bark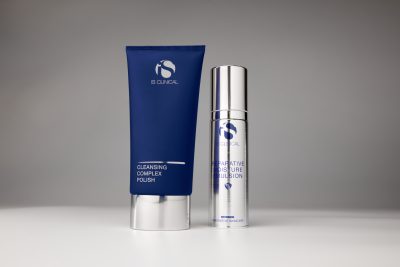 Reparative Moisture Emulsion
Like our Gauteng Product Specialist would say: This is our "Glow-in-a-Bottle". Reparative Moisture Emulsion is an intensive, rejuvenating moisturiser, formulated with pharmaceutical-grade botanicals that helps keep your skin healthy, smooth and protected. This product also contains iS Clinical's signature Extremozyme Technology (proprietary combination of enzymes that are clinically proven to help protect skin from environmental aggressors). Make-up artists across the globe use this product as a primer to give an extra glow when applying make-up.
iS TIP: Even though it is a moisturiser, all skin-types can use it (even oily skin-types).
Watch our Insta-Live with Product Specialist, Sera-Rose Harper & Aesthetician, Nafeesa from Zanya Medispa, where they explain more on these two products.
Key Ingredients
Tripeptide-1 (Copper Tripeptide-1)
Extremozymes
Hyaluronic Acid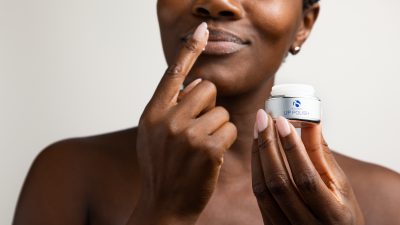 Lip Duo
The skin on the lips is different from the skin on the rest of the face in several ways. Firstly, the skin on the lips is much thinner and more delicate, making it more susceptible to dryness, cracking, and chapping. Secondly, the lips do not have oil glands, so they are not able to produce their own natural oils to keep them hydrated. This is why alternative skincare products, such as lip balms and lip treatments, are necessary to keep the lips healthy and moisturised.
Exfoliate, hydrate and condition the lips with our special two lip products from our Lip Duo which consists of Lip Polish – a gentle and effective scrub with powerful antioxidants with intensely rich botanical butters, leaving them with a healthy glow & Youth Lip Elixir – a highly moisturising elixir that visibly smooths and hydrates as it enhances, softens, and plumps the overall appearance of the lips.